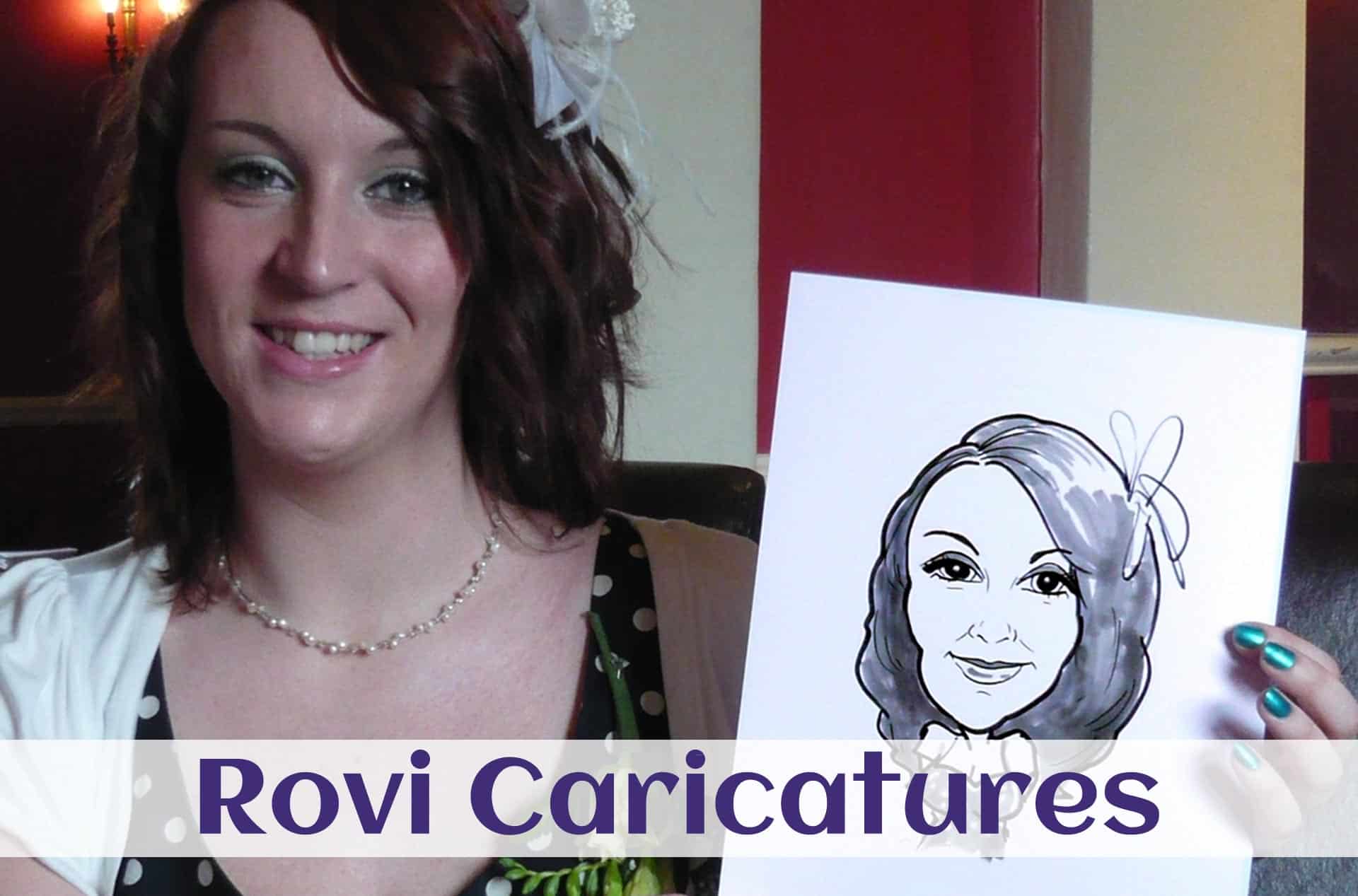 Profile – Rovi Caricatures …
Rovi is a world class artist who has been a full time professional for many years. A long standing member of our team – we have personally seen him entertaining live at events and he is Fantastic! His caricatures are drawn in a non-offensive "flattering" style that is extremely popular at corporate and private events.
» Highly Recommended
» Flattering Style
» Reliable and Friendly
» Mix and Mingle or Static
» Drawn in only five minutes on A4 card.
Examples …
When Does Rovi Entertain?
» Mix and mingle caricatures during arrival drinks.
» Caricatures drawn at tables, in between the courses of a meal.
» After the meal, before the evening disco or band gets into full swing.
» Mix and mingle / table caricatures as part of the evening entertainment
– perfect for the "non dancers".
» At trade show stands to attract attention of passers by.
 Video …
Feedback …
"VERY Well Done!"
"Well another job VERY well done! Your caricaturist Rovi performed splendidly yesterday and everyone was really impressed and I have passed on your website to many of the guests! We so appreciated your understanding and you handled it with kindness and professionalism. It was a very fortunate day that I struck on your website. I hope very much to be able to use you in the future … . Many, many thanks."
"Fantastic Job"
" Would you please pass on our thanks to your caricaturist. He did a fantastic job on Saturday and all our guests who had their pictures drawn were so amazed and pleased with the results! … I would recommend having a caricaturist to anyone who is having a party of whatever kind. Thank you once again"

"Wonderful"
"Please could you pass on my grateful thanks to the Caricaturist who was just wonderful at my event last week. He was incredible, helpful and handled all the moving around between sessions so well. With very best wishes"
Fran Riddett – Wedding


Susan & David Hargreaves Wedding

Kate Melton, Hampton Medical Conferences

"VERY Well Done!"
"Well another job VERY well done! Your caricaturist Rovi performed splendidly yesterday and everyone was really impressed and I have passed on your website to many of the guests! We so appreciated your understanding and you handled it with kindness and professionalism. It was a very fortunate day that I struck on your website. I hope very much to be able to use you in the future … . Many, many thanks."
Fran Riddett – Wedding


"Fantastic Job"
" Would you please pass on our thanks to your caricaturist. He did a fantastic job on Saturday and all our guests who had their pictures drawn were so amazed and pleased with the results! … I would recommend having a caricaturist to anyone who is having a party of whatever kind. Thank you once again"
Susan & David Hargreaves Wedding

"Wonderful"
"Please could you pass on my grateful thanks to the Caricaturist who was just wonderful at my event last week. He was incredible, helpful and handled all the moving around between sessions so well. With very best wishes"
Kate Melton, Hampton Medical Conferences