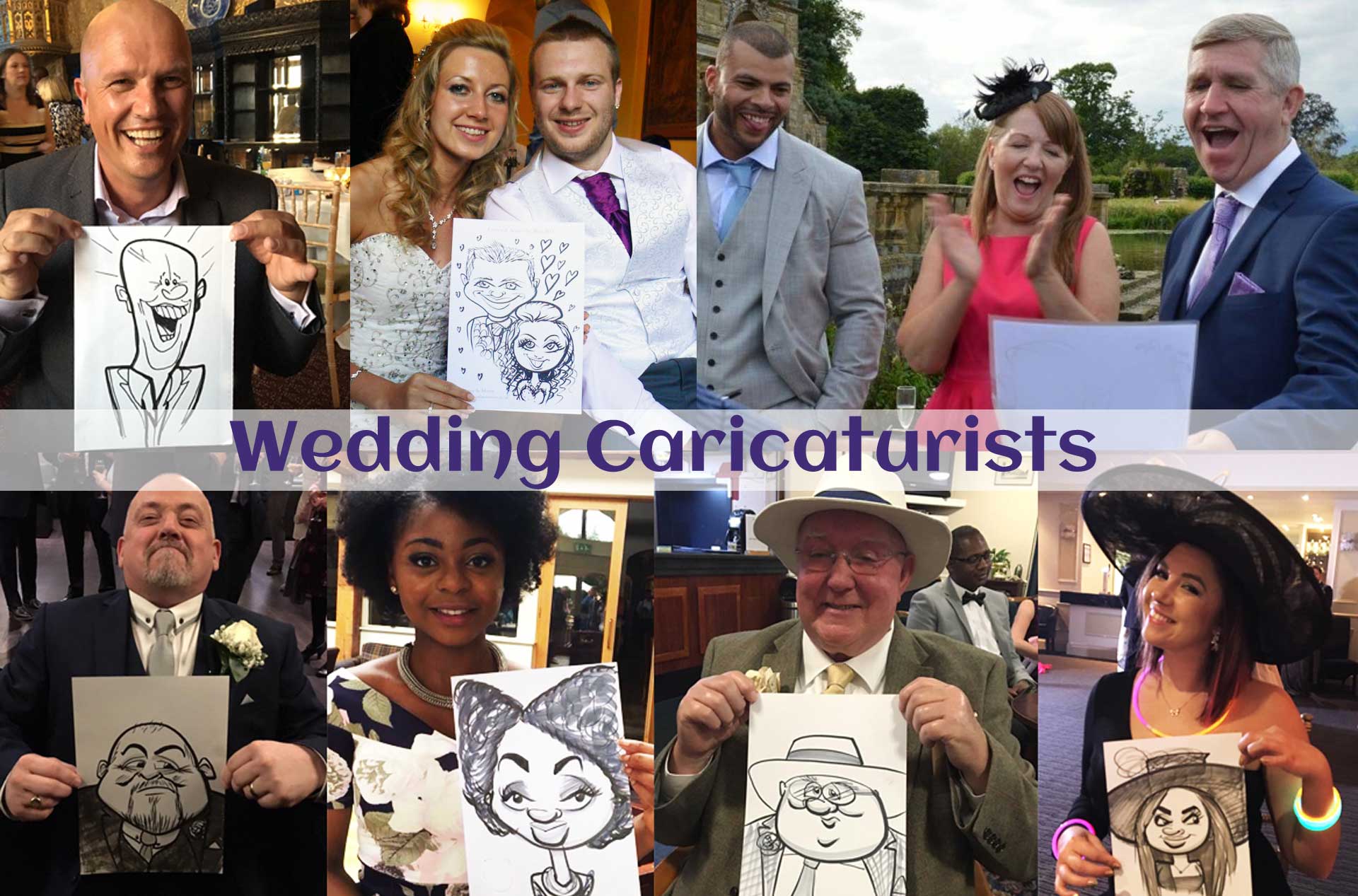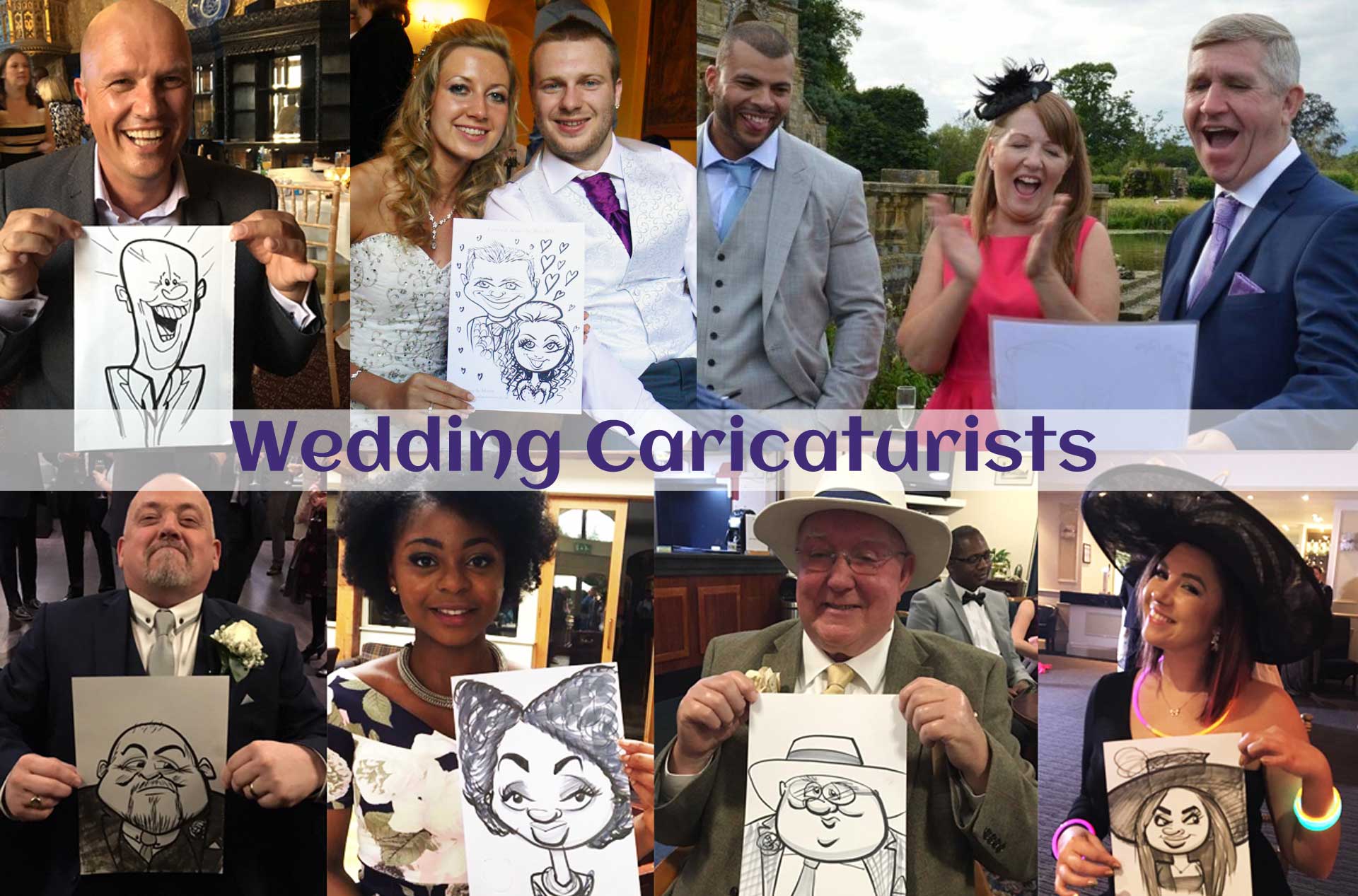 Wedding Caricaturist | Wedding Caricaturists For Your Big Day
Hire A Caricaturist | Local Caricaturists
So you are getting married and have started the search for some superb entertainment to make your special day go with a bang! Hiring a caricature artist for your wedding is the perfect way to bring a smile to the faces of everybody – all of your closest friends and family and it will certainly add a lot of fun to the proceedings.
Caricatures Of Guests
When your guests are waiting for their photographs to be taken, between courses of the wedding breakfast, or after the speeches when things need livening up – a caricaturist (also known as a caricature artist) can draw hilarious caricature portraits and will add the ideal entertainment to your event. Not only will our team of caricaturists leave your guests with the most unique memento that they will ever get, but your wedding day will also leave a long and lasting impression for everyone.
Find out what a Magical Memories Caricaturist can do for your wedding – contact us today.
Wedding Entertainment | Event Caricaturist Reviews:

We always receive great feedback about our wonderful caricaturists and the entertainment they provide. We receive testimonials following bookings, either by email or on our Facebook page.
"Really Nice Addition"
"Just wanted to say how pleased we were with the Caricaturist who you supplied for our Wedding. He worked bl*?dy hard! Really nice addition to our wedding! Would definitely recommend you guys. Thanks again"
Mrs Amy Gibbs
Caricaturist for a Wedding Celebration

"Many Thanks!"
"Just a quick note to ask you to pass on our thanks to the Caricaturist who came to the Lochside wedding party last Friday. He was really good and stayed beyond the 3 hrs to finish everyone who wanted to take part. I would recommend him any time. Once again many thanks"
Ray Rendall
Caricaturist for a Wedding Celebration

"Fantastic Caricature Drawings"
"The event went really well and the caricaturist was a lovely surprise for everyone. Fantastic Caricature drawings! Thanks once again for all your assistance in arranging such a superb caricaturist. I have passed your details on to several people about the artist. Thank you."
Barbara Emms
Caricaturist for a Wedding Celebration

** More reviews can be seen here. **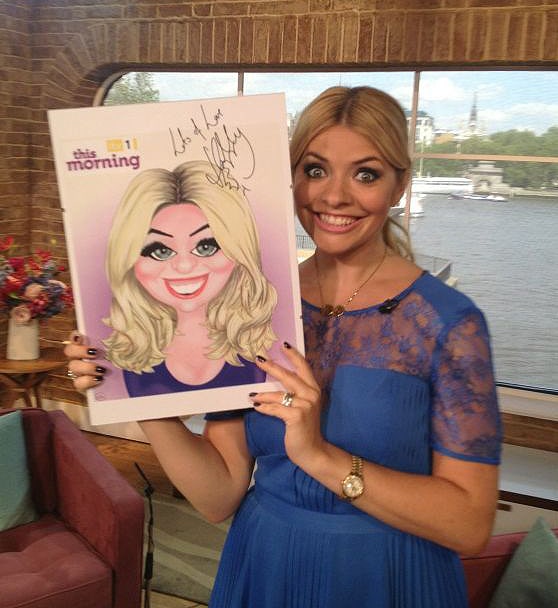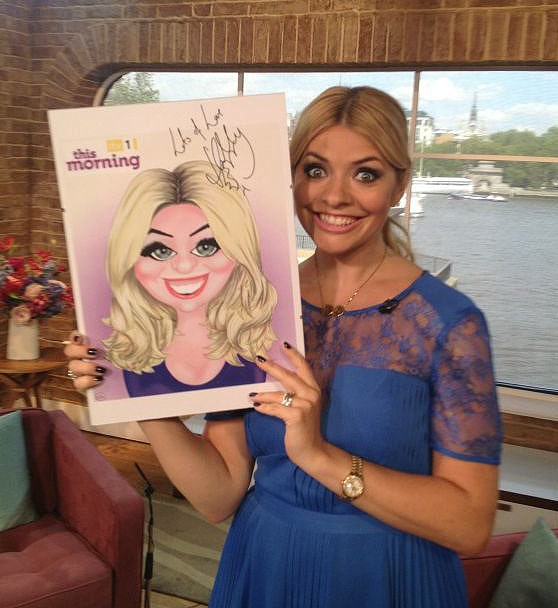 When Does A Wedding Caricature Artist Entertain?
1. Entertainment during photographs with a mix and mingle caricaturist.
A perfect time to keep guests entertained while the bride and groom are busy having photos. It provides a superb talking point and is the perfect ice breaker amongst guests.
2. Caricatures drawn at tables. Entertainment in between the courses of the wedding breakfast.
While guests are sat at tables and are waiting to be served, or have just finished eating a course, a caricaturist entertainer is perfect to bring fun and laughter to the proceedings.
3. After the meal.
Entertainment is perfect to bridge the gap at weddings between daytime and evening events.
4. Mix and mingle / table caricatures as part of the evening entertainment.
A perfect solution for the "non-dancers" shy of the dance floor, or to provide extra party entertainment in a quiet bar or room.
What Do Caricaturists Do?
Wedding Caricature Artists draw fun, quick "on the spot" caricatures live at your wedding reception, creating a buzz wherever they go! All of our artists have a great sense of humour and are very friendly and personable.
Around 12 – 15 people per hour can receive drawings on average depending on the artist booked. Individuals, couples and even small groups can be drawn. For smaller events, colour can sometimes be added. When you hire a caricaturist for your event, we can print the paper with a message/logo to add a special, personal touch.
The artists can either mix and mingle or sit in one area or corner and a queue will form. Each caricature is given away FREE OF CHARGE to your guests. Guests will get to keep the fantastic caricatures free of charge and many frame them, and/or add the caricature portrait to social media profiles!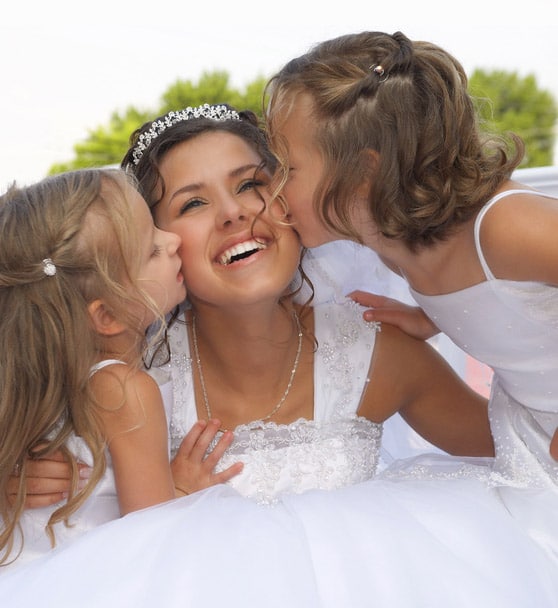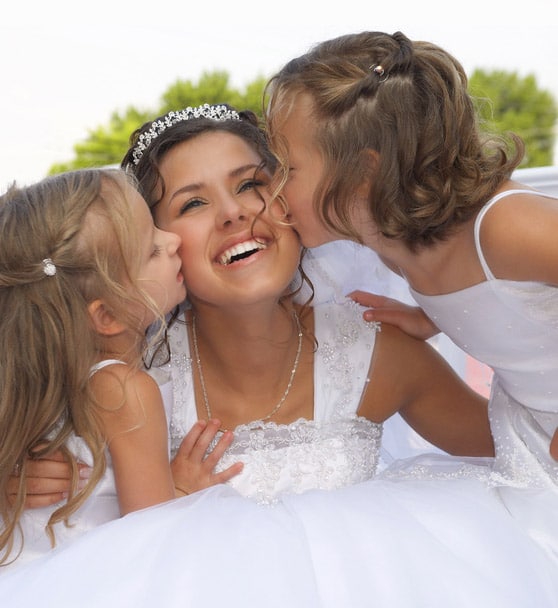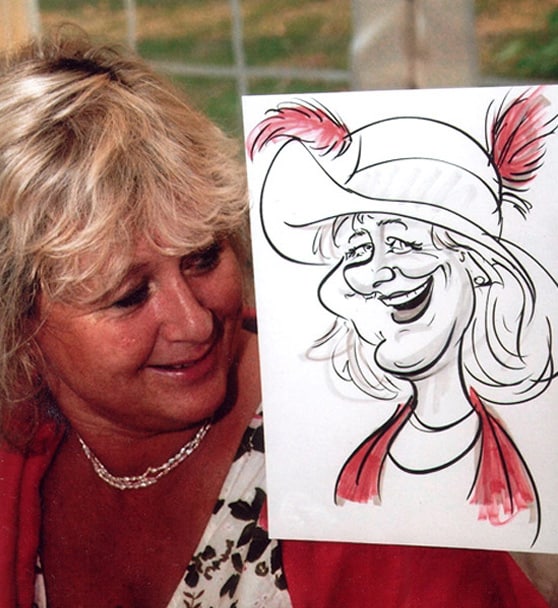 How Do We Choose Our Team Of Caricaturists?
Magical Memories members have to tick an enormous amount of boxes before we allow them to join our professional and experienced team. Reliability, professionalism and talent are all key factors we look at when assessing caricaturist looking to join.
Many agencies will take any act on who is willing to pay a joining fee, or any performer they feel is cheap enough for them to make a large profit on. We do not work in this manner and never have.
Magical Memories have been providing acts for over 20 years so we know exactly what to look out for. Using our experience we can ensure you get the right kind of wedding caricatures at the right price and therefore produce 5* results. Many of our members have been with us from the very beginning!
All members have to have PLI (see more below).
Ipad / Digital Caricaturists For Weddings
Looking for something totally unique – why not hire one of our Digital / iPad caricaturists for your wedding day?
Digital caricatures are high quality, hand-drawn on the spot using an iPad or tablet and can be projected onto a bigger screen for a larger audience to see. The iPad caricatures can then be instantly printed at the event using a high-quality colour portrait printer. This type of new, novel and exciting way to draw caricatures is always a huge hit with wedding guests young and old alike and gives amazing results.
Read More About Our iPad Caricaturists on our dedicated iPad caricaturist website page.
Why not ask us for a FREE no-obligation quote for the best Caricaturists in your area – please contact us for a quote / book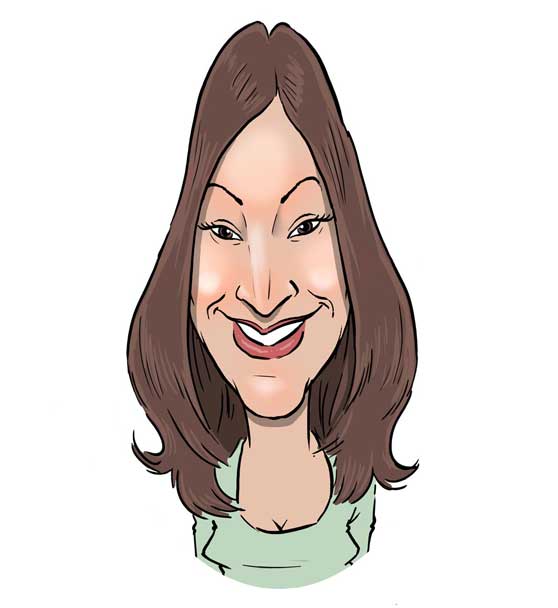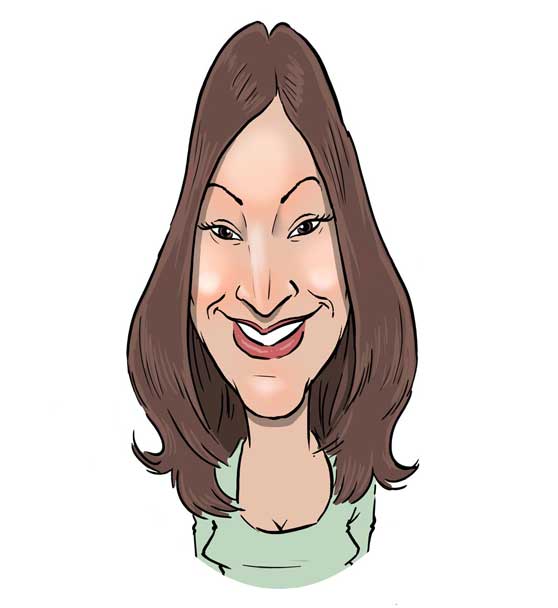 Caricature Artist Bookings For Weddings
All bookings are confirmed online. Magical Memories use a secure online booking system that is simple and easy to use. Step by step you can book your act, confirm the event details, make a payment and even sign a digital contract so you can be certain everything runs smoothly.
For every type of event bookings, we accept credit/debit card, PayPal, bacs or cheque and invoices are provided.
Around a week before your event, your entertainment advisor will get in touch to run over all of the final details and times. On the day, the caricaturist will aim to arrive no later than half an hour before the agreed start time in order to meet you or the wedding venue staff/organiser.
All that's left to do at this stage is relax and enjoy the fun the caricaturist and the wedding caricatures will bring to your day!
So why not Book Today?
Caricaturist Hire – Other Events
As well as for weddings, our caricaturist team have provided unique entertainment at numerous types of corporate events and parties for A-list celebrities, well known large companies and of course, for countless private customers.
Magical Memories Caricaturists are available for any occasion. Book an entertainer today …
Special Birthday Party, Anniversary Parties, Office Party Or Corporate Event, Trade Show Corporate Events, Conferences, Charity Fundraisers and more.
Whether it's entertainment for a wedding party or corporate event, a private party or a charity event, please get in touch.
Public Liability Insurance (PLI)
Wedding venues in the UK will require all acts and suppliers including caricaturists, to have public liability insurance for them to be able to work and provide entertainment onsite. All of our artists have PLI and many are members of Equity which include PLI as part of the membership deal so you can book with confidence.
Hire A Caricaturist – All Of The UK Covered!
Do you have Caricaturists for Hire Near Me? You bet!
Our Caricaturist team are located UK Wide and we always use the closest artists to keep your costs (and fuel emissions) down to a minimum. That way you get top class, yet affordable Caricaturist entertainment you can rely on.
UK Wide Caricaturists:
No need to search any further for a local caricaturist for your event. Magical Memories can supply a caricaturist "near me" and cover all of the UK.
Acts Directory. You can book for events in …
Bedfordshire, Berkshire, Buckinghamshire, Cambridgeshire Cheshire Cornwall Cumbria Derbyshire Devon Dorset Durham Essex Gloucestershire Hampshire Herefordshire Hertfordshire Huntingdonshire Isle of Wight Kent Lancashire Leicestershire Lincolnshire London Middlesex Norfolk Northamptonshire Northern Ireland Northumberland Nottinghamshire Oxfordshire Rutland Shropshire Somerset Staffordshire Suffolk Surrey Sussex Tyne and Wear Warwickshire West Midlands Wiltshire Worcestershire Yorkshire Plus all of Scotland, Wales and Ireland