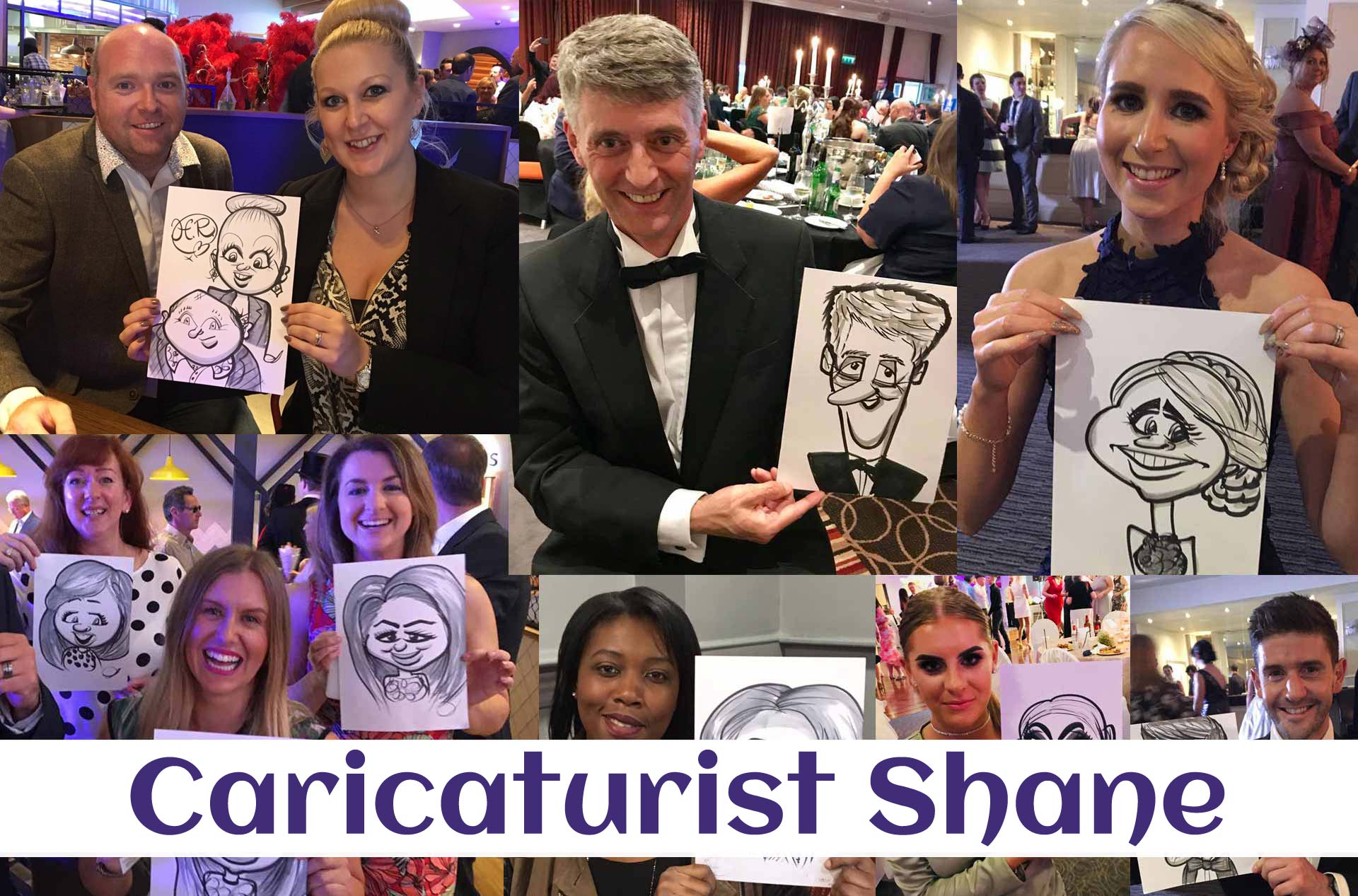 Profile – Shane Morris Caricaturist …
If you're looking for something to add something fun and exciting to your Wedding, Party or Corporate Event, Shane Morris is your man! Guests love watching Shane's caricatures being drawn; either of themselves, or someone else… it really is wonderful entertainment! Shane's Caricatures are fun, Cartoony and fast!
He can mix and mingle with guests during drinks, or around tables, or he can set up in a suitable area and draw guests as they sit
» Fast and great quality
» Hilarious Pictures Guaranteed
» Professional Smart and Punctual
» Mix and Mingle or Static
» Nobody better for fun pictures.
Examples …
Feedback …
"Thank You"
"Thank you so much for sending Shane, he was absolutely brilliant and the guests were extremely impressed with our idea!! Many of them already have their pictures framed. We had a fantastic day and I know it sounds cliché but having some different like a Caricaturist has really made our day stand out from all the rest! Also we already have had a guest phone to find out your email/website. I am extremely impressed. He arrived bang on time and managed to do all the guests in the time! No one suffered the boring interim and it was a blast! Many thanks"
"HUGE Success"
"Just wanted to say a big "thank you" to you all for helping us to book Shane for our wedding recently. He was a HUGE success and a great talking point for all of the guests. As each sketch takes only a couple of minutes he was able to get most of the guests drawn in the time and everyone was pleased with the outcome! It helped to fill a gap that can often be a little awkward in between the meal and the evening reception. All in all it contributed to a fantastic day for all. Thanks again"
"Amazing Pictures"
"I just wanted to thank you for the amazing pictures our caricaturist did for us. A lot of people commented how relaxed it was to go and sit with him, how great their pictures were …. I have seen most of the pictures he drew and they are brilliant. Really nice guy, highly recommended just sorry we didnt get to say goodbye to him (if you could pass this on it would be appreciated). Thank you again."
Jennie and Nick – Married 2nd August

Jeremy and Amanda – Wedding 7th June

Emma Sadler, Wedding, 19th May

"Thank You"
"Thank you so much for sending Shane, he was absolutely brilliant and the guests were extremely impressed with our idea!! Many of them already have their pictures framed. We had a fantastic day and I know it sounds cliché but having some different like a Caricaturist has really made our day stand out from all the rest! Also we already have had a guest phone to find out your email/website. I am extremely impressed. He arrived bang on time and managed to do all the guests in the time! No one suffered the boring interim and it was a blast! Many thanks"
Jennie and Nick – Married 2nd August

"HUGE Success"
"Just wanted to say a big "thank you" to you all for helping us to book Shane for our wedding recently. He was a HUGE success and a great talking point for all of the guests. As each sketch takes only a couple of minutes he was able to get most of the guests drawn in the time and everyone was pleased with the outcome! It helped to fill a gap that can often be a little awkward in between the meal and the evening reception. All in all it contributed to a fantastic day for all. Thanks again"
Jeremy and Amanda – Wedding 7th June

"Amazing Pictures"
"I just wanted to thank you for the amazing pictures our caricaturist did for us. A lot of people commented how relaxed it was to go and sit with him, how great their pictures were …. I have seen most of the pictures he drew and they are brilliant. Really nice guy, highly recommended just sorry we didnt get to say goodbye to him (if you could pass this on it would be appreciated). Thank you again."
Emma Sadler, Wedding, 19th May


Previous Clients:
Shane has worked for countless well known companies and has appeared on TV many times.  He has drawn live caricatures for many A-List Celebrities