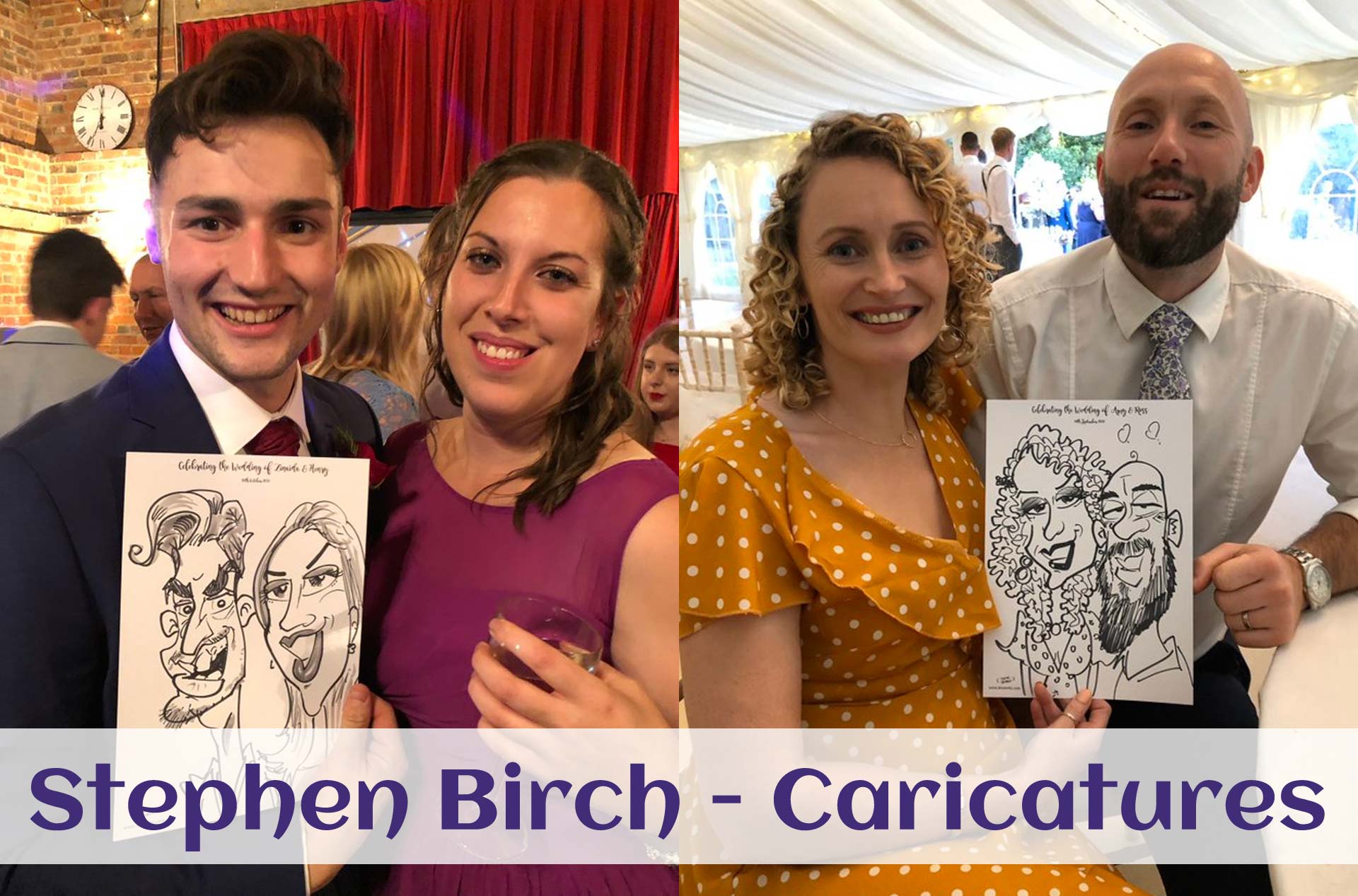 Profile …
Stephen Birch is one of the most popular and in demand caricaturists in the UK.
He can either draw live on the spot caricatures from an area at the event, or he is also very happy to mix and mingle with guests standing or at tables.
Also available are Stephen's iPad Caricatures which are always a huge hit offering something even more unique.  iPad Caricatures are dawn on the spot in colour and can be printed at the event for guests to keep.  The caricatures can also be projected onto a larger screen to enable more guests to see the artwork unfold!  Perfect for stopping passers by at Trade Shows!
» Officially one of THE fastest caricaturists in the World!
» Fast & Superb Likeness Guaranteed
» One Of The UK's Top Artists
» Professional Smart and Punctual
» Mix and Mingle or Static
» iPad Caricatures Also Available.
 Public Liability Insurance can be made available upon request..
Examples …
Feedback …
"Unforgettable"
"The Caricaturist went down a storm with our Wedding guests, the pictures were amazing and he provided an excellent and unforgettable experience. I would highly recommend him to anyone thinking of booking him for an event, I will certainly book him again in the future, he brought lots of smiles and laughs to our guests and it was definitely worth the money paid. Thank You for making our Wedding reception special … Please would you print this on your site, he was fantastic and I cant praise him enough for his time at our reception. Thank you Magical Memories for making this happen. Your highly recommended. Regards"
"Very Funny"
"We would just like to say a really big thank you to the caricature artist that performed at our wedding, he was very funny and the guests loved him. Thank you"
"Unique Touch"
"Dear Magical Memories, My Husband and I would like thank the Caricaturist who attended our wedding. He was very good and everyone had the chance to be drawn. It was a very unique touch to a very special day and we are very thankful. Best regards and many thanks"
Jayne & Jason Hughes – Wedding

Claire and Paul Van dyk – Wedding

Mandy & Damon Earlam – Wedding

"Unforgettable"
"The Caricaturist went down a storm with our Wedding guests, the pictures were amazing and he provided an excellent and unforgettable experience. I would highly recommend him to anyone thinking of booking him for an event, I will certainly book him again in the future, he brought lots of smiles and laughs to our guests and it was definitely worth the money paid. Thank You for making our Wedding reception special … Please would you print this on your site, he was fantastic and I cant praise him enough for his time at our reception. Thank you Magical Memories for making this happen. Your highly recommended. Regards"
Jayne & Jason Hughes – Wedding

"Very Funny"
"We would just like to say a really big thank you to the caricature artist that performed at our wedding, he was very funny and the guests loved him. Thank you"
Claire and Paul Van dyk – Wedding

"Unique Touch"
"Dear Magical Memories, My Husband and I would like thank the Caricatruist who attended our wedding. He was very good and everyone had the chance to be drawn. It was a very unique touch to a very special day and we are very thankful. Best regards and many thanks"
Mandy & Damon Earlam – Wedding