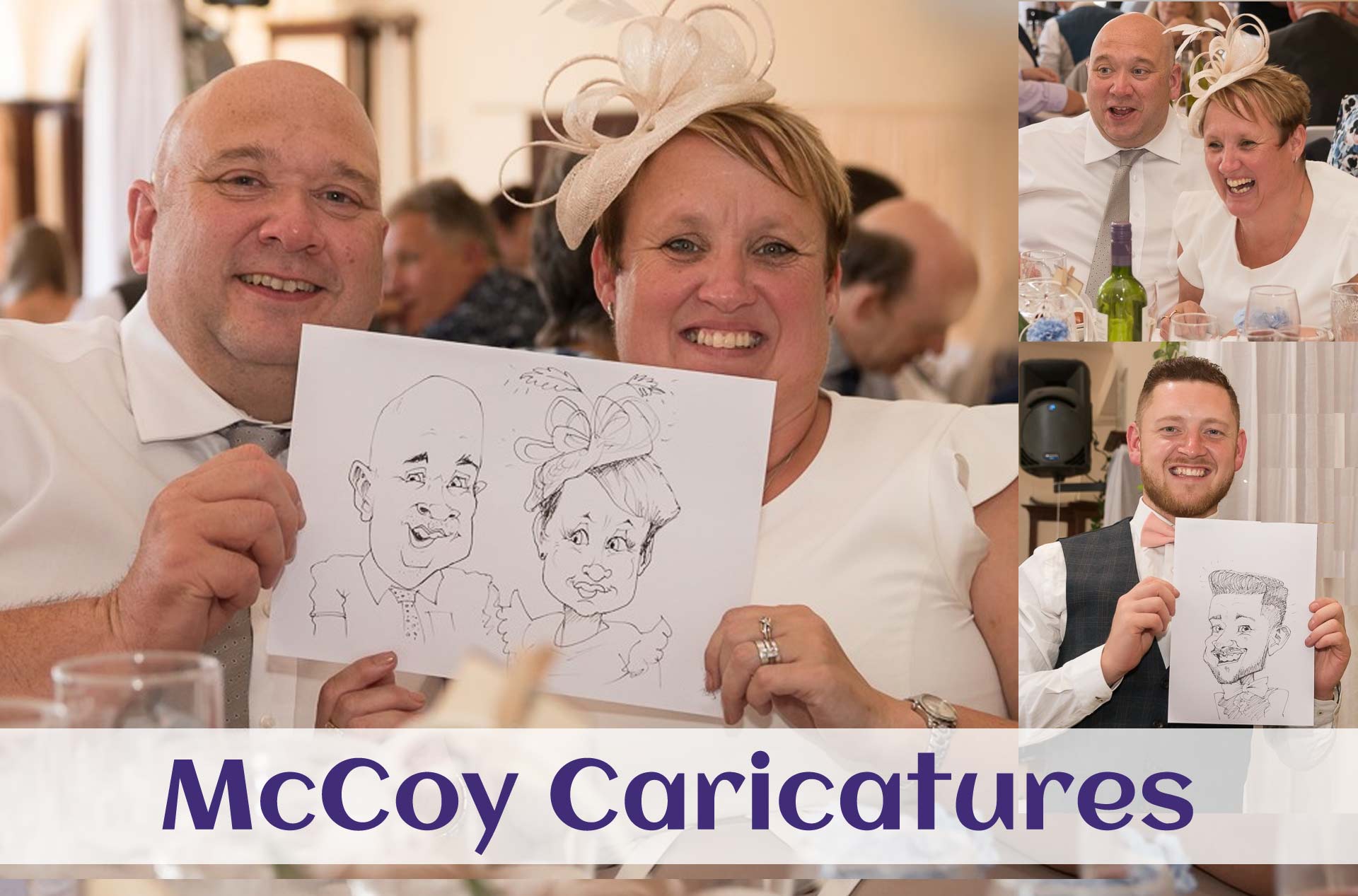 Profile – McCoy Caricatures …
McCoy Caricatures is a cartoonist who can capture a brilliant likeness of you at lightning speed. A qualified illustrator and fantastic entertainer he will make a huge impact at your party!  He regularly entrtains at Private Parties, Weddings and Corporate events and has even performed at MTV press junkets! McCoy Caricatures is adaptable to your event, however big or small.
* Fast, accurate and funny portraits.
* Fun and Friendly.
* Punctual.
* Smartly dressed.
* Unique Artistic Style.
Examples …
Feedback …
"Unique Touch!"
"We loved the Caricatures that the caricaturist drew at our wedding! It added a really unique touch to our special day and our friends and family commented on how much they loved their caricatures and how friendly and professional he was. We would highly recommended McCoy Caricatures for any event; we found him to be friendly, fun, professional and really flexible to our needs on the day – thank you!"
"Quick and Amazing"
"My daughters hen night with 23 girls must have been quite daughting, he didn't show it in the slightest, quite the opposite, he has a great sense of humour making each girl feel relaxed whilst he drew drawing after drawing, we had only booked for two hours however he stayed longer and made sure he hadn't missed anyone. His drawings were quick and amazing, the girls loved them. We honestly had the best night and wouldn't hesitate recommending him to anyone."
"Absolutely Fantastic"
"The Caricaturist was absolutely fantastic. He was very quick with his drawing so managed to get through a decent number of people. His drawings were impressive and very funny. Thank you  for making our event very memorable! First class service throughout the process."
Katie & Brad Barker, Wedding, London

Linda Anderson, Hen Night, Manchester

Stephen Duffett, Birthday Party, Kent

"Unique Touch!"
"We loved the Caricatures that the caricaturist drew at our wedding! It added a really unique touch to our special day and our friends and family commented on how much they loved their caricatures and how friendly and professional he was. We would highly recommended McCoy Caricatures for any event; we found him to be friendly, fun, professional and really flexible to our needs on the day – thank you!"
Katie & Brad Barker, Wedding, London

"Quick and Amazing"
"My daughters hen night with 23 girls must have been quite daughting, he didn't show it in the slightest, quite the opposite, he has a great sense of humour making each girl feel relaxed whilst he drew drawing after drawing, we had only booked for two hours however he stayed longer and made sure he hadn't missed anyone. His drawings were quick and amazing, the girls loved them. We honestly had the best night and wouldn't hesitate recommending him to anyone."
Linda Anderson, Hen Night, Manchester

"Absolutely Fantastic"
"The Caricaturist was absolutely fantastic. He was very quick with his drawing so managed to get through a decent number of people. His drawings were impressive and very funny. Thank you  for making our event very memorable! First class service throughout the process."
Stephen Duffett, Birthday Party, Kent


 Previous Clients …